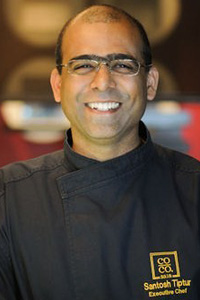 Co Co. Sala
Since its opening in 2008, Co Co. Sala has remained at the forefront of the confectionery-centric culinary scene in Washington D.C. thanks to Executive Pastry Chef Santosh Tiptur. Tiptur radiates a cool and calm demeanor while at work which is embraced by both his colleagues and customers, and is equally celebrated in the culinary community on both a national and international scale for consistently pushing the boundaries in creating eclectic and extravagant menus, which revolve around chocolate. Co Co. Sala's menu truly exemplifies world-class gastronomy in all of its offerings and Chef Tiptur has been instrumental in the development and execution of the Co Co. Sala concept. He is not only the creator of the patisserie and chocolate boutique menus, but also the delicious, savory dishes many of which incorporate chocolate in surprisingly unique mediums. On any given day, Chef Tiptur can be spotted handcrafting one of his famous chocolate and sugar sculptures, many of which can be seen on display throughout Co Co. Sala. He takes pride in creating everything from scratch such as bread for the savory dishes, garnishes and bases for the cocktails, or gourmet marshmallows for the hot chocolate, amongst other specialty items.
Tiptur's extensive culinary background and exotic heritage combines to create a scintillating Sunday brunch, and an exceptional dinner menu, heralded by residents and tourists alike at this Restaurant Association of Metropolitan Washington, DC 'RAMMY' award-winning restaurant. Chef Tiptur spent four years as the corporate executive pastry/bakery chef for Cunard and Seabourn Cruise Lines where he was responsible for both the pastry and bakery operations on board the Queen Elizabeth 2, the Caronia, the Seabourn Pride, the Seabourn Legend, and the Seabourn Spirit. During his tenure Chef Tiptur implemented various programs and menus with a number of celebrity chefs, including Charlie Palmer and Daniel Boulud. Prior to joining Co Co. Sala, Chef Tiptur worked as the executive pastry chef at the Ritz Carlton Hotel San Juan Spa and Casino where he was directly responsible for pastry and bakery operations for the 416-room hotel. Here, he introduced classic modern artistic fusion into the desserts served at the six various hotel outlets. He was also part of the key management team involved in the opening of the South Beach Ritz Carlton and the Grand Cayman Ritz Carlton.
Co Co. Sala has given Chef Tiptur the opportunity to expand his chocolate arts, honing his craft to develop the new and unique, including the five-course dessert tastings, chocolate enrobed bacon, S'mores French Toast, fiery Chipotle Chocolate Souffle, and over 75 different chocolate retail items. Co Co. Sala's artisanal chocolates are now offered at an array of prestigious hotels such as The Ritz-Carlton, The Mandarin Oriental, and The Inn at Little Washington. His expansive edge in pastry artistry and impeccable reputation for taste and flavor profiling gave way to his inclusion in the coveted 2009 National Pastry Team Championship, a spot to shine at both the 2010 & 2011 New York Chocolate Show with broadcast appearances on CBS Early Show, NBC Today Show, and two appearances on The Food Network, CNN,to highlight a few. In addition to tirelessly working at Co Co. Sala, Chef Tiptur makes the time to serve both global charities such as Share our Strength and our community's local charities such as Miriam's Kitchen where he has served as their guest chef. As a devoted husband and father of two, he often gives demos and speaks at his children's schools about chocolate & pastry arts.
With Chef Tiptur at the helm managing a staff of 32 – with 14 dedicated to pastry, Co Co. Sala's menus continue to evolve with finesse and sophistication. Chef Tiptur's final products often encompass refined, balanced flavor profiles highlighting chocolate as the prime ingredient. Since the beginning, today, and moving forward, Chef Tiptur is sincerely committed to using only the finest & freshest ingredients in each and every one of Co Co. Sala's unique, edible works of art.