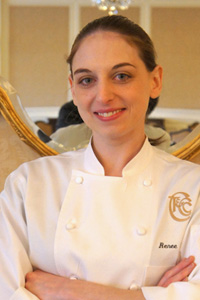 Cherokee Town & Country Club
Renee Ito is originally from the Pittsburgh, Pa area. In 2005 she graduated first in her class with an associates degree in Baking and La Patisserie from Le Cordon Bleu Pittsburgh(PCI).
She began her work experience at the Pinehurst Resort in North Carolina as an extern. Then she went to Atlanta, GA where she got a job as a pastry cook at the prestigious Cherokee Town & Country Club.
Since that time, she has worked under the tutelage of two very talented and decorated pastry chefs, both of whom were awarded pastry chef of the year. In 2008 she won an ACF Bronze Medal at the 2008 Pastry Salon in Atlanta, GA.
She currently holds the Assistant Pastry Chef position at Cherokee Club. She is also a CWPC and a registered proctor/instructor for ServSafe.
Thanks for all your time!
`R.Ito