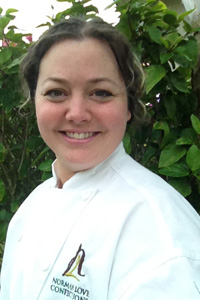 Maura Metheny
Chef Chocolatier/Director of Innovation and Product Design
Norman Love Chocolates
Massachusetts native, Maura Metheny was formally trained in fine arts before turning to a career in pastry and chocolate. Upon earning her bachelor's in fine arts in NY, Metheny then obtained an Associate of Science degree in pastry arts at Johnson & Wales University in Providence, R.I.
After graduation, Metheny accepted a job in Lucerne, Switzerland, where she worked in pastry and chocolate. She returned to the United States when offered a job in fine dining at The Ritz-Carlton, Naples. In 2001 Metheny accepted a position assisting Chef Norman Love while continuing to work full time at The Ritz. In 2003, she accepted a full-time position at Norman Love Confections as the Chocolate Production Manager for the Fort Myers-based confectioner, where she designed and oversaw the daily production of over 35,000 handmade pieces of ultra-premium confections, plus production of specialty lines for Love's G Chocolates by Godiva and FM Artisan by Norman Love for Fannie May Confections.
In 2011, Metheny was promoted to Director of innovation and product design. In her new role, she is responsible for the development of new products and packaging design as well as the continued design and execution all chocolate lines produced at Norman Love Confections. Metheny, having traveled the world to numerous classes and competitions takes her inspiration from both industry and art.
In March 2013, she received a bronze medal in the 24th annual U.S. Pastry Competition for Pastry Chef of the Year sponsored by Paris Gourmet at the Javits Center in New York City. She previously competed in two Showpiece competitions and garnered silver medals in both appearances.
A consummate professional, Metheny strives each day to be better than the day before, and to assist Norman Love Confections in continually raising the bar within the industry.
---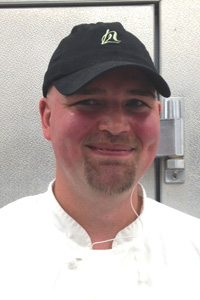 Dan Forgey
Chef Chocolatier/Production manager
Norman Love Chocolates
Originally from Alaska, Dan began his culinary career at New England Culinary Institute in Burlington, Vermont graduating with an Associate of Science in culinary arts. After graduation he began working in upscale resorts in Wisconsin, Michigan and Florida. He accepted a position on a 30-foot commercial fishing boat for a three month season in Southeast Alaska. Upon finishing, he assisted with opening an 80-seat fine dining restaurant in Massachusetts where, after opening, he assumed the position of head chef.
Forgey then moved to Florida when he accepted the position of pastry chef at the Waldorf Astoria Naples (formerly Naples Grande). While training for his first Chocolate Showpiece competition, he was introduced to Chef Norman Love and accepted a position with the Fort Myers based chocolatier and pastry chef in 2007. Since starting at Norman Love Confections, Forgey has continued to compete in chocolate showpiece subsequently receiving three silver medals.
Dan worked in chocolate production where he was responsible for ganache fillings as well as the design and production of all of novelties, including the creation of the coveted S'More Love. In September 2011, Forgey was promoted to chocolate production manager. Today, he is responsible for running the chocolate production as well as designing new flavors of confections for NLC's core and holiday lines. Forgey is also responsible for helping develop new novelties including the items available at the Boston Red Sox JetBlue Park located next to the Fort Myers Chocolate Salon and for the Fannie May's ultra-premium line, FM Artisan by Norman Love.
Traveling all over the world touring chocolate factories and production facilities Forgey uses his broad culinary and pastry experience as well as the most cutting edge techniques to create chocolates and sculptures that constantly challenge the boundaries of the industry.