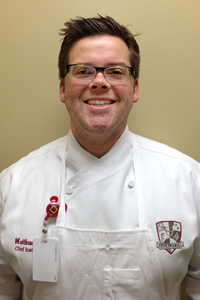 Culinard Culinary Institute of Virginia College
Chef Matthew Dyer began his career at New England Culinary Institute in Montpelier, VT. His love for baking began young, helping his mother bake pies and cakes for Holiday Inn Hotels.
After graduating Culinary School, Chef Dyer stayed at NECI as a Teaching Assistant under Chef Adrian Westrope, a former Pastry Chef for the Queen, where he was responsible for preparing all specialty cakes and wedding cakes for La Brioche Bakery. This is where love of pastry and cakes really took off. Chef Dyer worked as Executive Pastry Chef at Pitcher Inn, a Relais and Chateaux Property, and Bolton Valley Ski Resort, where he was in charge of Bailey's, the fine dining restaurant.
Chef Dyer moved to Alabama to get out of the harsh Northeast Winters. Since moving to Alabama, Chef Dyer has worked at such establishments as danielgeorge, Tria Market, and Icon Restaurant. He also is Personal Chef for some notable figures in the Birmingham area.