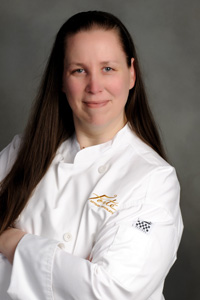 Forte Chocolates
Master Chocolatier, Karen Neugebauer is a true Artisan who is at the forefront of the Seattle artisan chocolate scene. She has continually wowed customers with both traditional pieces and her cutting-edge confections. Her passion for the craft and cunningly balanced flavor profiles have led to being ranked among the world's best chocolatiers.
Chef Karen found her passion when she entered the Art Institute of Seattle's Baking & Pastry program. She was immediately drawn to chocolate, especially the crisp, clean snap of a beautifully tempered bar, and chocolate's innate ability to enhance lives – both as a food and an art – appealed to her immensely. Soon after graduating, she started Forte Chocolates (2006).
Believing in the philosophy that to celebrate chocolate is to celebrate life, Chef Karen chose to follow the artisan mindset rather than manufacturing large quantities. Her team of artisans craft every piece entirely by hand; including hand tempering, pouring, dipping, and packaging all of the chocolates. With meticulous dedication to quality, she brings to life the remarkably diverse variety of flavors found naturally within chocolate. She also creates stunning flavor combinations by blending chocolates with the finest ingredients available in the marketplace, including savory elements such as organic herbs, honeys, and spices.
Chef Karen has won numerous national and international awards, most notably Gold (2013) and Silver (2011), from the Academy of Chocolate in London, UK. Nationally, she has earned more than 50 Golds and Silvers in four short years (2009-2012), including Taste TV's Masters Award (2012) and the Six-star rating from the International Chocolate Salons (2013), their highest possible rating in the United States. Chef Karen's chocolates are carried throughout the Pacific Northwest, available online, and available at her showroom in Mt. Vernon. Please visit us at www.ForteChocolates.com