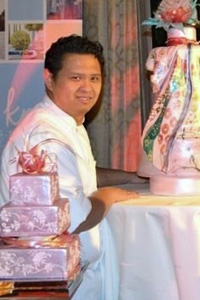 Caesars Palace, Las Vegas
"Three years to forge one's soul; thirty years to polish it" –Miyamoto Musashi.
This one of my favorite quotes, that I relate to my career. But, unfortunately it's taking more than 3 years because there is always something new to learn every day.
Moving from the Philippines to Canada at a young age, I grew up having the influence of both eastern and western cultures. Never really knowing "what I wanted to be when I grow up", I leaned toward the sciences where I felt I had a natural aptitude for. But, after working in hospitality and advice from my parents; I went into the culinary arts, earned a degree and found a new niche.
Under the watchful eyes of chefs from Culinary Team Canada and working for various chefs, I gained the skill and techniques needed to compete and excite myself to pusher further in my culinary career.
Not until I moved to Las Vegas, did I fully commit to patisserie. But, working for various hotels in Las Vegas and notable chefs like Jean – Claude Canestrier, Vincent Pilon, Randy Sebastian, Gianni Santin and now Carlos Salazar, have slowly developed skills to get to where I am now.
I have always had an interest in art, but never took any formal classes (self taught mostly). I find inspiration in almost anything (nature, industrial, feng shui, famous painters, and even my children's drawings) and I try to interpret and emulate it in my cakes. Now I am known for my signature style of sculpted and hand painted cakes.