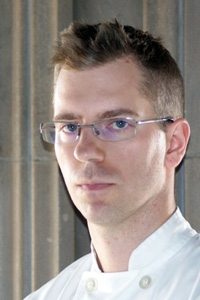 Inn at Little Washington
Washington, VA
Evan began working at the age of 15 in a small cafe. Waiting tables and washing dishes were his formal introduction to the restaurant industry.
Evan began working as a line cook at Taste Bistro on Melrose in 2007. Here, Evan developed a lasting connection with each other and to food and the joys of cooking.
In 2008, Evan began working a second job at Deluxe Cakes and Pastries. Originally slated as his part time position, the Bakery demanded full time attention. Here, Evan began to develop a love for the ingredients and process of baking.
After two years at Deluxe, Evan decided to move to Chicago and complete training at the renowned French Pastry School.
In 2011, Evan was awarded the For Love of Chocolate Foundations Scholarship, given to students who show promise and dedication to the field of pastry, but lack the financial viability for a formal education. The Foundation is there to continue to provide those with passion the means to achieve success.
While in School, Evan took a full time pastry cook position at the popular at Boka Restaurant. He thrived in a restaurant environment geared towards excellence and Michelin starred food and service.
After graduating Evan accepted a full time Chef de Tournant Position at The University Club of Chicago under Executive Pastry Chef Jimmy MacMillan.
While at the University Club of Chicago, Evan participated in 2 competitions. One (the Chicago Restaurant Pastry Competition) as an assistant to Melissa Coppel, and the other (World Chocolate Masters U.S. Selection Finals) as a competitor.
Chef Sheridan will be joining the Inn at Little Washington in early April in the position of Pastry Chef.
"My passion is clean, straightforward desserts. I feel that success can be achieved when focus is put to the task at hand. It is the Chef's responsibility to move constantly forward and to bring new and fresh ideas to the community. I believe that Pastry Chefs are leading cuisine into the new frontier." says Evan Sheridan.