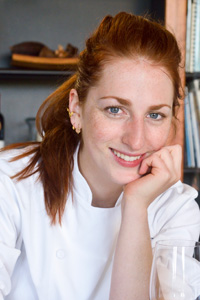 The Hess Collection Winery
After a few years studying sculpture and design abroad in Italy, Emma Kate Veader returned to the states to attend the Culinary Institute of America at Greystone. During her education; with passion and precision, she interned under the Sweet Genius (Ron Ben-Israel) in New York where she deepened her interest and appreciation for artistic baking. Upon returning to the west coast, she graduated with honors with an Associates in Pastry and Baking and quickly turned her attention to broadening her craft to everything cacao.
With a crash course in chocolates at school and a part-time job at a local Napa Valley chocolate shop, Emma has continuously deepened her knowledge and skills with the support of her current employer. Originally hired while still a student, Emma developed the pastry department for the world renown Hess Collection Winery. Intermittently, she has traveled back to NYC to work with the Fashion Chef constructing cakes for Disney and Barneys New York.
A trip to the San Francisco based company TCHO inspired her to elevate Napa Valley's "wine and chocolate" trend to an echelon only The Hess Collection Winery and TCHO chocolates could define. Using Hess and its sister wines as the backbone for the pairing program, she utilizes TCHO Single-origin chocolate along with local ingredients to generate a new perspective and experience to all that come to enjoy the region . A year later, Emma continues to build onto the pastry program, developing new seasonal chocolates with each new wine releases. In addition, she hosts weekly yoga instruction for Hess employees. What could be better than chocolate, wine and yoga!