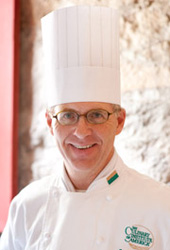 Pastry Chef Instructor

Stephen is a Pastry Chef Instructor at the Culinary Institute of America, Greystone, in Napa Valley, CA., where he has been on the staff since November, 2000. Formerly the Executive Pastry Chef of The French Laundry in Yountville, CA, Stephen was part of the restaurant's 1994 opening team. He spent over five years at the popular restaurant, working his way through the Garde Manger and Fish stations until he assumed responsibility for the Pastry Department. While at the French Laundry, he won the 1998 James Beard Award for "Pastry Chef of the Year" and was named one of the "10 Best Pastry Chefs in America" in 1999 by Pastry Art & Design and Chocolatier magazines.
Other professional experience includes working as pastry chef at Charles Nob Hill in San Francisco, CA; the Wheatleigh Hotel in Lenox, MA; and as a pastry instructor at Peter Kump's New York Cooking School, where he earned his certificate in pastry/baking in 1991. Chef Durfee has also traveled and worked in France, during which time he apprenticed at restaurants in Paris and Chambery.
In 2007, Chef Durfee represented the CIA at the National Pastry Team Championships, where his team collected a third place bronze medal. He has twice been chosen to participate in the US selection for the World Chocolate Masters competition, and in 2010 finished in 3rd place. He has recently been chosen to be part of the team that will represent the United States in the 2013 World Pastry Cup taking place in Lyon, France.