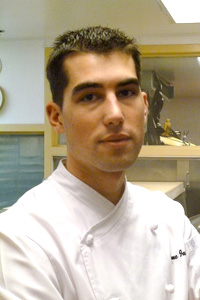 Assistant Pastry Chef
Bellagio Resort and Hotel, Las Vegas
Jerome Jacob joined the Bellagio Resort Hotel and Casino in Las Vegas, Nevada in 2010 as the newest Assistant Pastry Chef. Born in Paris, France, Jerome started studying the art of pastry at the young age of 16. He enjoyed pastry making, but was more drawn to the art of chocolate. His talent and determination soon secured him several coveted spots in some pretty prestigious pastry houses: The Trianon Palace Hotel, the famous Pierre Herme Paris, and Frank Daubos Chocolatier, just to name a few.
From early on Jerome proved to have tremendous skills by winning third place at the Croque en Bouche competition at the Salon du Chocolat in 2007. He also competed in the Coupe des Jeunes Chocolatiers Confiseur competition in Paris in 2008.
After completing school in 2008, Jerome decided to pack up his belongings and experience and head to the United States. He was offered an opportunity to work along side world renowned chef, Jean-Marie Auboine at the newly opened Fontainebleau Hotel in Miami, Florida. As an Assistant Chef, he managed the chocolate production for hotel events.
In 2010, armed with his inbred French techniques, his new Miami Beach flair and his lust for new experiences, Jerome made up his mind to head West. He landed at the Bellagio Resort Hotel and Casino in Las Vegas, Nevada as the newest Assistant Pastry Chef. In this role, Jerome oversees the day-to-day chocolate production for all the hotel outlets, events, and VIP amenities. He is also able to create new and exciting recipes that embody his French heritage and show his true passion for chocolate making.
Most recently he participated in the Pastry Live competition in Atlanta, Georgia. The competition was held in July 2012 where he won first place and the title of Chocolatier of the Year.