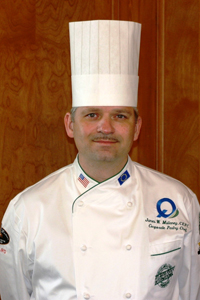 Executive Pastry Chef
ATLANTA, GEORGIA – Executive Pastry Chef James Mullaney lives the sweet life. His prolific talents bring beauty, whimsy and sublime indulgence to the tables of the finest establishments in Georgia.
Applying classic pastry techniques such as viennoiserie, artisan breads, petit fours, ice creams, entremets & cakes, plated desserts, sugar & chocolate and puff pastry to the down-to-earth, flavors of traditional Southern pleasers, Mullaney reinvents the familiar. Color and taste conspire to surprise the senses in these visually arresting translations of the South. His playful Mint Julep Parfait is a sinful layering of flourless chocolate bourbon cake and mint crème patisserie, while the sultry Southern tropics are captured in Malted Coconut Custard Tart served with Sautéed Mango and Toasted Macadamia Nut brittle. A country fireside favorite is given an elevated spin in Chocolate S'mores Terrine made with a honey graham cake and burnt marshmallow ice cream, and the ubiquitous Southern blackberry finds three delicious incarnations in Blackberries Three Ways as oatmeal cobbler, corn financier and gelato.
A visual master and an adroit craftsman, Mullaney takes the artistic aspects of pastry to fresh heights through his award-winning showpieces. In 2005 he was awarded the National Champion title at the National Pastry Team Championship held in Phoenix, AZ and has claimed more than 30 other medals in chocolate, pastry and ice carving competitions over the course of his career. Mullaney was selected to represent the United States in 2006 and 2009 in World Pastry Championships, here in the U. S. and in Lyon, France. His work has been featured on the Food Network, TLC and in the industry-favored Pastry Art & Design magazine.
Mullaney, originally from Pittsburgh, commenced his culinary career in the U.S. Army as a Distinguished Honor Graduate of the Food Service Specialist Training Program at Fort Jackson, SC. He later graduated from an accredited Pastry Apprenticeship Program at The Cloister at Sea Island, a program he later directed. He then expanded these skills further at chocolate schools in the pastry meccas of Belgium, France and Spain. Additional training at the Notter School of Confectionary Arts in Florida led to a full time position as lead instructor of baking and pastry.
From this well-rounded foundation, Mullaney has built on his formal training with verve. He joined The Sea Island Company / Mobile Five-Star Cloister Hotel in 1999 as Executive Pastry Chef, before that he served as Executive Pastry Chef of Loews Ventana Canyon Resort in Tucson, AZ, where he delighted patrons of the AAA Five-Diamond Ventana Room with his magic, and as Executive Pastry Chef of the AAA Five-Diamond Ritz-Carlton, Amelia Island. He currently works with Atlanta Foods International and QimiQ Corporation (Austria) as Corporate Pastry Chef.