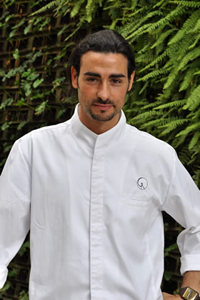 Gabriele Riva entered the world of pastry as an adolescent assisting in his father's pastry shop. He was exposed to the fundamentals of traditional Italian pastries. Coinciding with the time spent working for his father, Gabriele began studying Kung Fu, a Chinese martial art, which influenced his approach to pastry. He found a parallel connection between the two disciplines; as a martial artist, he brought precision and discipline to his craft. After learning the classic techniques implemented in his father's shop, Gabriele sought professional training at C.A.S.T. Alimenti Pastry School in Brescia, Italy. Here, he was exposed to the contemporary techniques of pastry preparations and production.
Upon the completion of his studies in Brescia, his professional employment commenced at Pasticceria Piave. The pastry chef and owner, Silvano Lullini was recognized as one of the best traditionally trained pastry chefs within the city of Milan. Under Chef Silvano's mentorship, Gabriele developed skills in orchestrating large-scale production and gained insight into the coordination and tasks of the various departments. Though trained in the art of traditional pastry, Gabriele was a decided modernist. Gabriele then went to work at Le Corti, a large pastry shop and tearoom in Milan. He took the job as head pastry chef and was given complete freedom to put all of his ideas into action. This was his first opportunity to test all of his modern concepts.
Curious by nature, Gabriele sought cultural exposure outside of Italy. His first opportunity to explore was at Patisserie Valerie located in the SoHo area of London, England. Here he found London's clientele to be very receptive to his novel flavor combinations. After one year, he was named head pastry chef. At this juncture Gabriele received an offer as pastry chef at Nobu London, situated in the area of Old Park Lane. This period was a wave of enthusiasm and personal growth in the possibilities of incorporating Japanese ingredients into his repertoire. Through the constant exploration and intersection of these Eastern flavors, the new combinations he created became essential and indispensable to his future dessert creations.
Gabriele was offered the directorship of the new pastry program and opening of Nobu 57 located in Manhattan, New York. Curious of the diversity in American culture, this gave him the incentive to pursue the position. The inauguration of Nobu 57 coincided with consulting as Executive Pastry Chef for Gramercy Park Hotel's pastry department and its restaurant Wakiya. Gabriele dedicated his time exclusively to the Nobu Corporation coordinating his work as Executive Pastry Chef for the various locations: New York, Nobu 57, Nobu NY, Nobu Next Door, Nobu San Diego and Nobu Los Angeles, situated in West Hollywood, as well as consultant of the various Nobu Restaurants world wide. During this arc of time a radical shift took place in his work through his investigations within the disciplines of art, science, and philosophy. Explorations in architecture, descriptive geometry and various artistic expressions influenced his notion of new form making. He applied the science of nutrition, health and wellness into his dessert creations and expanded his menu to offer vegetarian and vegan selections. Gabriele's studies in Chinese medicine, eastern and western philosophy has expanded his understanding and appreciation for the various modes of communication, thought and expression.
Having finished his tenure with the Nobu Corporation, Gabriele dedicates his time to teaching and training of pastry chefs. He has been involved in the development of various specializations in the culinary field and offers consultation services.