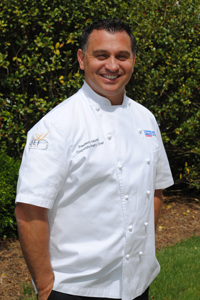 Corporate Pastry Chef
Frederic Monti, a native from France, joined The PreGel AMERICA culinary staff in 2009 as the corporate pastry chef. Prior to coming to PreGel AMERICA, he was the executive pastry chef at The Greenbrier. He also served as executive pastry chef for the Ritz-Carlton Buckhead in Atlanta and The Ritz-Carlton, Naples. Frederic Monti's other previous experiences include positions as pastry chef at Brasserie Le Coze in Atlanta, GA, and Le Clos de la Violet in France, one star Michelin. He began his career at the age of 14 with a culinary apprenticeship and brings more than 29 years of experience to his position.
Corporate pastry chef Frederic Monti was named one of the "Top Ten Pastry Chefs in America" in Pastry Art & Design magazine for the second consecutive year (2003 & 2004). He was also featured on the Food Network for sugar artistry.
Frederic Monti was also the recipient of a Silver Medal during the National Pastry Team Championship held in 2003, Las Vegas, Nevada. After months of preparation and thirteen hours of intense competition, Team Monti won second place in the biannual event. They beat out a dozen pastry teams from across the country to win the coveted Silver Medal. Frederic Monti returned in 2007 to the National Pastry Team Championship held at the Gaylord Opryland Convention Center in Nashville, Tennessee. Frederic Monti was one of the three on team Branlard and they achieved a gold medal. In 2008, Frederic Monti coached a team for the National Bread and Pastry Team Championship and the team took 1st place and won the gold medal.
Chef Frederic Monti is not only known for his beautiful presentations of desserts, but also creating amazing flavors and texture combinations. The pride he takes in the careful execution of his desserts has gained him numerous awards. His craft leads him to explore his imagination, which unfolds onto impressive, inspiring sugar and chocolate showpieces