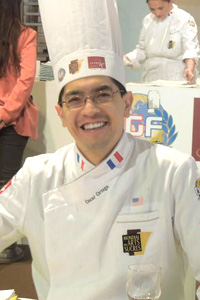 Oscar Ortega
CocoLove
Born in Mexico City, where he also received the beginning of his culinary inspiration and training, Chef Oscar Ortega studied pastry arts in cast alimenti, Italy. He also attended various courses of pastry, chocolate and sugar work. Chef Ortega sharpened his abilities and passion for pastries over years of work in the UK, Italy, France and the USA.
In 2004 Ortega opened his first Pastry and chocolate Shop. Shortly thereafter, he took the opportunity to organize a Mexican Pasty Team to compete in International pastry competitions.
Ortega's pastry and chocolate shop expanded in 2009 and was renamed to Atelier Ortega (AO). Today AO is a thriving business that still produces an extensive variety of Artisan chocolates, desserts, entremets, confections, artisan bread, gelato and viennoiserie to serve its global customer base.
In 2009, Chef Ortega became the first Mexican Chocolate Master and he represented Mexico at the World Chocolate Masters Finals. He has also competed at the World Pastry Team Championship in 2006, 2008, 2010, 2012, and at the Mondial des Arts du Sucre in Paris 2008. He was the captain of team Mexico at the Coupe du Monde de la Patisserie 2007 and Chef Ortega has participated and been awarded in many other international and national pastry competitions. Ortega was named Best Pastry Chef of America in 2011 and coached the USA pastry team at the MDAS 2012.
Cocolove is Ortega's new and latest project. An exclusive and refined Chocolate, Pastry and Gelato boutique with plans to expand in other exclusive locations around the globe.
Chef Ortega, consults ad teaches advanced chocolate and pastry courses in Mexico, USA, and abroad.
---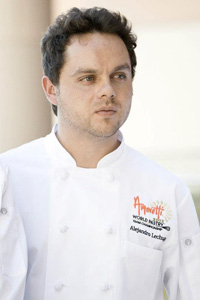 Alejandro Lechuga
Caramell
Chef Lechuga was born in Mexico City. His artistic and creative side, combined with interest for cooking, guided him to attend the culinary school. It was there when he discovered his passion for the pastry arts. After completion of his culinary and Pastry degree at the "Universidad Iberoamericana", he started his apprenticeship at the French Embassy in Mexico City. When he finished, he worked as an assistant pastry chef at the 5 start Grand Coral Beach Luxury Resort in Cancun Mexico.
Chef Alejandro also attended several courses in pastry, chocolate and sugar at ECOLE de Bellouet Consail en Paris in 2001, 2003, 2005.
Alejandro is one of the most in-demand pastry and sugar instructors in Mexico. He is based in Guadalajara, Mexico where he teaches full time at the ECI. At the same time, Chef Lechuga works as a pastry chef consultant for several Mexican pastry shops and bakeries in the area of California.
Chef Lechuga has been in the competition field for a while. He was the National sugar champion in 2003 and got 3rd place at the Maya pastry championship 2007. His experience in international competition started in 2005 when he represented Mexico at the Coupe du Monde de la Pattiserie, and he has also competed at the World Pastry Team Championship in 2010 and 2012. He coached team Mexico at the Junior World Cup 2011 as well as the Pastry Queen in Rimini, Italy.
In 2012 Lechuga launched Caramell, his exclusive line of pastries, chocolate and sweets confections, Caramell products retails at refine gourmet food establishments, high-end grocery stores and exclusive restaurants.