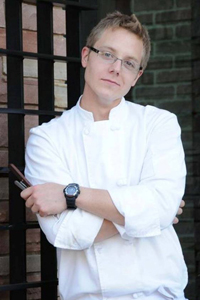 Gonzalo Jimenez
Executive Pastry Chef
Hyatt Regency New Orleans
Gonzalo Jimenez, Executive Pastry Chef of Hyatt Regency New Orleans, discovered his passion for cooking while growing up in Salta, a city in Northwestern Argentina. At a young age, Jimenez began experimenting in his mother's kitchen, tasting everything he could and refining his palette. Following his passion, Jimenez enrolled in L'ecole, a culinary school in Mar del Plata, where he received his degree in Culinary Arts at the age of 19.
Upon graduating, Jimenez began working in a series of 5-star hotels throughout Argentina. Cultivating his skills at each property, Jimenez was quickly promoted through the ranks of savory kitchens. To further enhance his knowledge of the industry, Jimenez enrolled in L'ecole Lenotre in Buenos Aires, Argentina where he studied the chemistry and molecular gastronomy of food. While studying, he accepted a position as Pastry Chef at Bruni Ristoranti under celebrity Chef Donato de Santis. Through this position Jimenez solidified his pure talent and skills as a Pastry Chef.
Ready for a new opportunity, Chef Jimenez took on the role of Pastry Chef at the St. Julien Hotel and Spa in Boulder, Colorado from 2009 to 2011. While in this position, he fully developed the property's Pastry Department, while continuing to improve his artistry with chocolate, a self-taught skill he continuously worked on throughout his career by attending professional seminars and studying with the elderly German women in Bariloche, a village near the private hotel he worked at during his time in Patagonia. Fusing his love of industrial architecture with whimsical elegance, Jimenez began to create elaborate modern chocolate sculptures.
Jimenez brings the same passion and success that he has enjoyed in the past to Hyatt Regency New Orleans. His background in savory cooking broadens his palette and lends to a unique pairing of ingredients seen in his dessert menus. His chocolate sculptures are showcased at major hotel events, banquets, and dessert buffets. They represent the innovation and exceptional talent he has developed during his extensive travel and career experiences. Says Jimenez: "The discipline of pastries and creating pastries is extremely rewarding. It requires the balance of science and art. It involves each of your five senses. You have the ability to create a visual masterpiece that someone can completely indulge in and enjoy." Jimenez's dessert menu carry every influence from his career path as well as those he acquired in the savory kitchen and those influenced by the farm-to-table mentality Hyatt Regency New Orleans carries overall. Under Jimenez, the pastry department of Hyatt Regency New Orleans strives for perfection with masterful displays of confectionary favorites.
---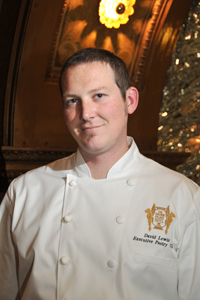 David Lewis
Executive Pastry Chef
The Brown Palace Hotel
Chef David Lewis is responsible for everything at the Brown Palace from wedding cakes to the hotel's afternoon tea petit fours, restaurant desserts, coffee shop pastries and famous macaroons.
Chef Lewis began his career in 1998 and comes to The Brown Palace from Paris, Bally's, and Planet Hollywood in Las Vegas, with previous experience at Harrahs Las Vegas and Norwegian Cruise Line America in Hawaii. Lewis recently competed in the 2010 and 2012 Pastry Chef of the Year Competition in New York.