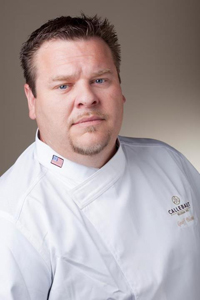 Geoffrey Blount, CEPC, ACE
Head Chef Instructor
Baking & Pastry Arts Program
Central Piedmont Community
College, Harris Campus
He graduated from CPCC in 1995 after earning an AAS degree in Culinary Arts. Chef Blount also attended the French Pastry School in Chicago. A member of the American Culinary Federation (ACF) and the 2011 Charlotte Pastry Chef of the Year and Educator of the Year, Geoff has earned numerous awards including Best Pastry Shop-2005 & 2006, Top Ten Charlotte Chefs-2004 and his dessert creations were featured at both the 2004 and 2005 James Beard Dinners. Recently, Chef Blount competed as part of Team USA at the Gelato World Cup in Italy, where the team won the coveted "Best Taste" award.
Between 1992 and 2012, Chef Blount has won over 39 ACF medals for the Hot Food, Bread, Chocolate, Pastry and Cold-Food categories in competitions throughout the US. He currently serves on the National Pastry Committee and is an ACF Certified Judge. His professional career includes stints as Pastry Chef, Executive Chef and Owner in top hotels, shops and clubs throughout the southeastern United States. Chef Blount is also the owner of the Sugar Buzz INC. and began teaching at CPCC in 2007.
---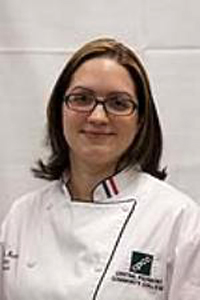 Tessia Harman CEPC
Pastry Chef Instructor
Central Piedmont Community
College
She earned an Associates of Occupational Studies Degree in Culinary Arts from The Culinary Institute of America in New York. She is a Certified Executive Pastry Chef with the American Culinary Federation.
Shortly after graduating from CIA, Tessia moved to Belgium to work as the private chef and residence manager for the Irish Ambassador to the European Union. After returning to the states in 2002, Tessia moved to Charlotte and began working as Pastry Chef for Zebra Restaurant. Once the Westin Charlotte Hotel opened, she began work as their Pastry Chef and eventually was promoted to Chef de Cuisine. Tessia joined the CPCC team in January of 2010.