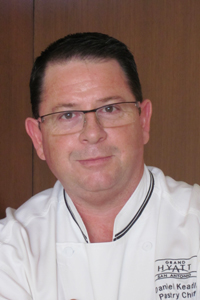 Daniel Keadle
Pastry Chef
The Phoenician Resort and Spa
Chef Daniel's love of the industry arrived early, having his own omelet pan as a young boy. An early specialist in breakfast preparations, his formal professional training came at age 29. A career change became evident as he fell in love with all things baked and pastry. He graduated with honors from the Cordon Bleu in Portland, Oregon and has been a resort Pastry Chef for the last 20 years.
Having opened numerous properties in the USA and Caribbean, Daniel has always maintained his skills current and relevant. Whether it's cooking for customers or judges, gaining valuable knowledge through competitions and continuing education, keeps him focused and driven.
Understanding the foundations of molecular to primitive cuisines, in addition to competing on a regular basis, has improved the quality and production of his work.
Chef's career has helped to inspire and educate his cooks and assistants. Always focusing on continued engagement in the field, he has re-enforced training, learning and camaraderie. Setting the example for others is an invaluable commitment.
Being placed in the position to prepare delights for countless customers and celebrities, his skills have earned him many appearances in magazines, newspapers, and
television across the nation and abroad. Daniel's work can be viewed at www.flickr.com/photos/pastry_chef_danny
---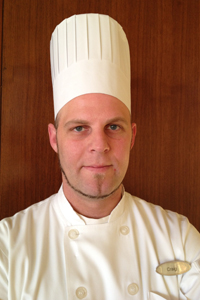 Craig Chamberlain
Assistant Chef
Grand Hyatt San Antonio
Born in Denver Colorado, Craig grew up listening to stories of his uncle working at the Waldorf Astoria in London. His mother's stories of the fantastic food, and great pride it brought the family, peaked his interest in the culinary field.
When given the chance to work in the industry at 18 years of age, Craig landed a job at La Mansion del Rio in San Antonio Texas. Being part of a top tier culinary team, he learned from Pastry Chef Mark Chapman, named one of the Top Ten Pastry Chefs in the USA by Pastry Art & Design magazine.
Mark took Craig under his wing, and after his departure, landed the job as an assistant to Chef Daniel Keadle, at Grand Hyatt San Antonio. Developing depth in the mastery of chocolate has caused Craig to become a craftsman and spokesperson for Pastry in San Antonio. Building elaborate displays and desserts, have enhanced his skills, and made it possible to help out at other Hotel properties in Texas.