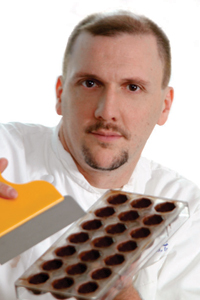 Brain M. Donaghy
Principal Chef/Chef Instructor
The Criollo Group
Niagra Falls Culinary Institute
Chef Brian Donaghy is currently the principal at The Criollo Group (TCG), a consulting group that specializes in chocolate and confection. Started in 2009, TCG has worked with equipment manufacturers, ingredient suppliers and confectioners of differing sizes, formulating recipes, demonstrating equipment and products at trade shows, teaching confection classes and connecting food manufacturers with potential new markets and clients. In addition to his TCG responsibilities, he is currently an adjunct faculty member at the Niagara Falls Culinary Institute where he teaches classes on showpiece construction and design and candies and confections.
Brian recently was the winner of an episode of Food Network Challenge. The episode tasked the contestants to build a four foot tall chocolate showpiece as a back drop for a "surprise engagement."
Prior to TCG, Brian was the Corporate Pastry Chef and Chocolatier for Tomric Systems of Buffalo, NY. At Tomric he was instrumental in the formulation of a line of chocolate; stewarding the product line from concept to manufacture with several large chocolate manufacturers in North America. He demonstrated, provided customer support for and taught the use of tempering and other chocolate handling equipment in support of the sales and marketing efforts of Tomric. Additionally, he was responsible for recipe development that used aforementioned products in conjunction with moulds, tools and equipment available from Tomric for monthly newsletters.
Before Tomric, Brian was the Assistant Corporate Pastry Chef for Albert Uster Imports. There he worked for Chef Anil Rohira in the Culinary Department developing new products, creating recipes, teaching pastry skills and recipes and providing customer support to individual customers and approximately forty sales reps.
Recently Brian has done the following:
Food Network Challenge, Surprise Wedding Engagement
Food Network Challenge, Holiday Window Display
Taught Advance Chocolate Chocolate Making Workshop at Bakon USA (Spring and Summer 2010)
Co-taught Chocolate and Confection Class at Albert Uster Imports (Summer 2010)
Performed Seminar of Flavor and Recipe Development at Retail Confectioners Annual Conference (Summer 2010)
Equipment training for a small confectioner in Baltimore, MD that included an evaluation of production space layout and commendations for process changes
In addition to these experiences; Brian has worked for a luxury hotel chain and a casual themed dining chain.
---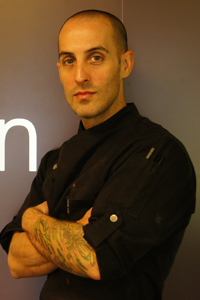 Rick Jordan, CEPC
Chef/Owner
Rick Jordan Chocolatier
Rick Jordan graduated with an AOS in the Baking and Pastry Arts from l'Ecole Culinaire in Saint Louis, Missouri where he found a love for working chocolate. Rick began working pastry in a fine dining Italian restaurant, Villa Farotto, in Saint Louis. He then moved on to working pastry with a strong emphasis on artisan bread, for a restaurant group in Saint Louis that included Vin de Set, 1111 Mississippi and a banquet center, Moulin. Rick spent several years of continuing education and side-work in chocolate while working in the industry, and eventually returned to Villa Farotto to become pastry chef for the restaurant and catering company.
It was at Villa Farotto that Rick launched his first chocolate line through the catering company, the dining room menu and a small retail operation in the restaurant. In 2010, Rick was invited by a friend to stage with Patrick Roger MOF, in Paris, France. Rick left the restaurant and budding chocolate line to work with the man who had always been his biggest inspiration. He was offered a position in the company and to stay in France, but being a single father with dreams of opening his own boutique, with a heavy heart Rick returned to Saint Louis and began to implement his plan to open his chocolate boutique and lab space in the same neighborhood where he had begun. By the summer's end of 2011, Rick Jordan Chocolatier opened for business and upon its first anniversary is going strong.