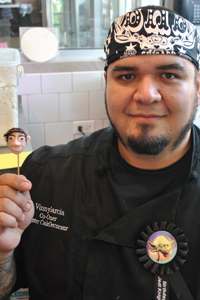 Bleeding Heart Bakery
Vinny's tough upbringing taught him that, if he wanted to make it, he just had to do it. He's been a butcher, a truck driver, a saucier. He's a musician, a carpenter, an artist, and a dad. He built the first Bleeding Heart Bakery by hand, and he's been responsible for the artwork and aesthetics of each of our bakeries ever since.
Vinny has worked with food for most of his adult life. But his true ascent began when he was hired as a catering driver for Wolfgang Puck—he was mistaken for a cook and put on the line. His skills were quickly noticed, and Vinny's hands-on gourmet schooling grew and grew. In 2005, he opened the first Bleeding Heart Bakery with Michelle, his wife.
Today, Vinny's the man behind all of Bleeding Heart Bakery's visionary cake masterpieces. As with his many other skills, he's entirely self-taught. He started by shaping fondant into little skulls and zombies, and moved on to sculpting entire cakes into the larger-than-life masterpieces that have made Bleeding Heart Bakery famous.
You can usually find Vinny performing his impressive feats of cake at our Belmont location. When he's not doing that, he's probably fixing something around the bakery. And if he's not there at all, watch for him dominating cake and pastry competitions across the United States.