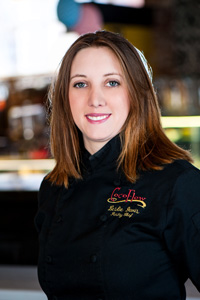 Leslie Davis has always had an interest in sweets and confections. She was working in education and picked up cake decorating as a hobby. She didn't stick with cake decorating but the idea did send her to pastry school.
She attended the Pastry Arts Program at Platt College in Moore OK. She graduated with a Pastry Arts Diploma in 2010 at the top of her class and received High Honors at graduation and an award for outstanding quality. During school her interest of cakes quickly changed as she learned many new aspects of pastry arts. She decided to go to Coco Flow Chocolatier for her required internship focusing on artisan chocolates and pastries.
After her time as an intern at Coco Flow, Leslie was hired as their pastry chef and later shop manager. While working at Coco Flow, Leslie was responsible for the plated desserts produced at the shop. This allowed her to compete locally and regionally featuring plated desserts against top restaurants. Coco Flow received high marks in Decadent Design, a competition where Architects and Pastry Chefs collaborate and design a plated dessert that is to represent a local landmark in Oklahoma City. Coco Flow also received 1st place in 2010 for their dessert trio at Chocolate Decadence. While Leslie was working at Coco Flow, they provided desserts for many high profile events including Chef's Feast and the National Council of Mayors Convention which was hosted in Oklahoma City. Leslie also developed a complete line of Parisian macaroons, now offered at Coco Flow, making it one of the first restaurants in Oklahoma City to offer macaroons.
While working at Coco Flow, Leslie offered a helping hand in special projects done by Platt College. She helped a group put together a gingerbread house replica of the Oklahoma Governor's Mansion that was delivered to the Governor. After working at Coco Flow for 2 years, Leslie was accepted as adjunct professor at Platt College where she is able to share her expertise to new Pastry Arts students.