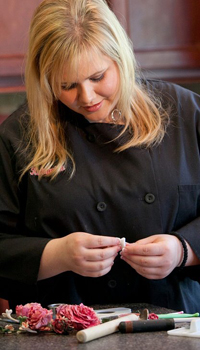 Katharina's Cakes
Katharina Craine began her pastry journey by learning at the feet of her grandmother in small town Germany. Surrounded by proficient bakers, she quickly developed a love for cakes and a very discerning set of taste buds.
After moving to Atlanta in her pre-teens, Katharina began sharing these old recipes with others, and eventually decided to pursue pastry as a career. She graduated Summa Cum Laude from Le Cordon Bleu Atlanta and moved halfway across the country to intern with Chef Bronwen Weber of Frosted Art Bakery in Dallas, TX. It was there that she truly fell in love with cake decorating, and she stayed at Frosted Art as a cake artist well past her internship.
Katharina eventually returned to Atlanta, where she honed her skills at some of the best bakeries and restaurants in the South. She branched out on her own to open Katharina's Cakes–a custom cake shop serving the Atlanta area–in late 2011.
Ever-evolving in her craft, Katharina is always looking for new and innovative ways to combine her unique design aesthetic with classic flavors and pastry techniques. Her work has been showcased in various bridal magazines and on television, but most importantly at special events all across Atlanta.
To see more of Katharina's work, visit http://www.katharinascakes.com