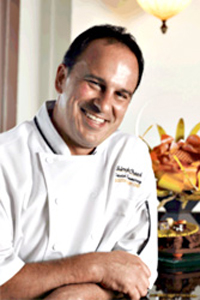 Owner
Cocoa Latte
PastryChefConsultants.com
Trained at Johnson and Wales in pastry arts, Chef David Ramirez has appeared on the Food Network, worked at five-star properties in Atlanta and Orlando, and was most recently named captain of the 2009 Team USA. As captain of Team USA, Chef Ramirez led some of the finest pastry chefs in the internationally acclaimed Coupe du Monde de la Pâtisserie, aka the World Pastry Cup, competition in Lyon, France. Chef Ramirez has competed against pastry chefs from all over the world and won dozens of awards from American Culinary Foundation competitions. In 2011, Chef David was inducted into the Orlando Magazine Culinary Hall of Fame.
This self-described "chocoholic" says that no matter where he is — whether strolling the toy aisles of Target with his three kids, attending a black tie event, or visiting Orlando's amazing theme parks, he views the world through "chocolate-colored glasses"— always wondering how every object he sees could be translated into an edible sculpture. Sweet, but never saccharine, Ramirez's elaborate chocolate creations reflect his youthful outlook. In fact, he has been known to actually cut apart his kids' toys in order to make a chocolate mold. The loving dad is always quick to replace what he borrows.
Cocoa Latte
In 2011, Executive Pastry Chef, David Ramirez opened his own chocolate shop called, "Cocoa Latte" in Orlando, FL. From there, he has created his line of garnishes, "DR Décor", for plated desserts, shot glasses, turn down amenities and cakes. DR Decor is sold online and through vendors to the hotel and restaurant industry. David has pioneered a technique for making his own transfer sheets which come in a large variety of bright colors that really pop on the chocolate.
In addition to his line of décor, David created "DR Chocolates", his signature line of molded chocolate candies. DR Chocolates are filled with flavors like Key Lime, Dulce de Leche, Cookies and Cream, Banana Rum, Strawberry Cheesecake and many, many more. DR Chocolates is available online at PastryChefConsultants.com.