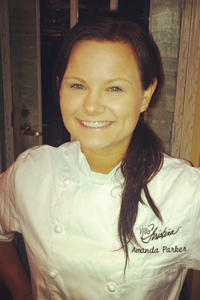 Executive Pastry Chef
Amanda grew up in Atlanta, Georgia. While in high school, she found that cooking was the only profession for her after watching her father cook all those years growing up. She then applied to the Art Institute of Atlanta where she found her niche in baking and pastry.
Amanda quickly accepted a job at Villa Christina where she started out as an intern and moved up to Executive Pastry Chef, a title she has held there for the past five years. She is responsible for the production of a la carte desserts, cakes, tortes, breads and pastries. She also helped open and design the dessert menu for the Hotel Avia in Savannah, Georgia in 2009.
Amanda has continued to take advantage of learning opportunities. She spent 3 months in Paris, France in 2007 working at the famous French patisserie Laduree, learning the perfect macaroon. She also participated in classes at the World Pastry Forum as well as learning from Chef Durfee at the Culinary Institute of America Greystone in St. Helena.