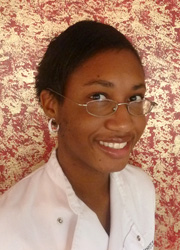 Yolanda Hill, born in Marietta, Georgia, was exposed to the love of cooking at an early age. Her grandmother was always known for her cakes and pies. Her mother enjoyed experimenting in the kitchen, changing recipes to create new and exciting menus. This atmosphere provided Ms. Hill the risk-free environment to test out her own skills in the kitchen. By the age of 17, Yolanda Hill knew that she wanted to become a pastry chef and open her own bakery. Since that day she has worked towards that goal. All of her choices of schooling and employment have moved her toward making that dream come true.
Ms. Hill received her Associate's Degree in Baking and Pastry from Johnson & Wales University in North Carolina. She interned at the Hilton Charlotte Center City in uptown Charlotte. She has been working for a small cake shop in Marietta for over 4 years. As the Head Decorator, she assisted with the attainment of fame and recognition for the shop. This recognition continued to fuel the dream to showcase her work. It is her desire through this competition to share her gifts as a talented pastry chef and move her forward on her path to business ownership.
Ms. Hill has a real passion for the work she does, and loves the opportunity to create something wonderful for people to make their lives a little sweeter. Whether through a custom designed cake or baking pies and cookies for special events, what pleases her most is to see the excitement and satisfaction on a customer's face.