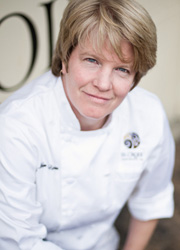 St. Croix Chocolate Company is owned and run by Robyn Dochterman and Deidre Pope. The duo relies on a cadre of talented assistants to keep operations humming.
As chocolatier, Robyn crafts the confections at St. Croix Chocolate Company. After the recession brought an abrupt end to her career in journalism, her passion turned to pastry and chocolate. Though journalism and chocolate don't seem similar at first glance, Robyn loves that both require a balance of art and science to achieve excellence.
Robyn learned fine chocolate techniques from internationally acclaimed chefs at the French Pastry School in Chicago, the Chocolate Academy in Chicago, and the San Francisco Baking Institute in California. She continues to expand her education with additional professional intensives, but she is never so serious about business that she doesn't allow herself to wear her red-and-black plaid wool Converse hi-tops in the kitchen.
Although producing fine, fresh and beautiful artisan chocolates was originally just Robyn's vision, it is Deidre who ensures that customers receive excellent service, and the shop runs smoothly and is well-managed. A non-profit program administrator by day, Deidre devotes evenings and weekends to St. Croix Chocolate Company's mission of delighting customers.
St. Croix Chocolate Company

261 Parker Street
P.O. Box 121
Marine on St. Croix
MN 55047
Phone: (651) 433-1400
Email: info@stcroixchocolateco.com
Website: http://www.stcroixchocolateco.com
We're committed to making fine, fresh, beautiful chocolates that delight our customers, and to having fun doing it!
At St. Croix Chocolate Company, we honor that splendid moment when the silky richness of chocolate transforms an ordinary instant into a special, time-stopping experience.
We start with some of the world's best chocolate from Belgium, Switzerland and Venezuela. Then we make it even better, creating our truffle centers using fresh, organic cream and butter produced just across the St. Croix River in Osceola, Wisconsin, at Crystal Ball dairy. We use real vanilla beans, pure fruit, and natural flavorings. We even use honey from our own honeybees in our chocolates.
We take it one step farther than most chocolatiers. We layer flavors within each chocolate for twice the experience.
A layer of homemade caramel and a layer of pear jelly work beautifully together inside a milk chocolate shell. A layer of bright cherry and a layer of creamy dark chocolate ganache play off each other in a beautiful presentation that looks like art and tastes like heaven. A layer of rich, dark chocolate complements the airy delight of homemade marshmallow, like a steaming cup of hot chocolate, in one sublime bite.
Check out some of the fantastic work coming from St. Croix chocolate Company
Click for a better view