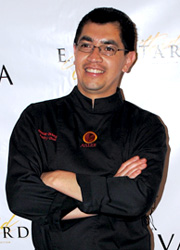 Born in Mexico City, where he also received the beginning of his culinary inspiration and training, Chef Oscar Ortega studied pastry arts in Cast Alimenti, Italy. Chef Ortega also attended various courses of pastry, chocolate and sugar work. Chef Ortega sharpened his abilities and passion for pastries over years of work in the UK, Italy, France and the USA.
In 2004, Ortega opened his first pastry and chocolate shop in Jackson, WY, where he created an exclusive line of Artisan chocolates and fine confections. Shortly thereafter he took the opportunity to organize a Mexican Pastry Team to compete in international pastry competitions.
Ortega's Jackson Hole pastry and chocolate shop expanded in 2009 and was renamed to Atelier Ortega (AO). Today AO is a thriving business that still produces an extensive variety of Artisan chocolates, desserts, entremets, confections, artisan bread, gelato and viennoiserie to serve its global customer base.

In 2009, Chef Ortega became the first Mexican Chocolate Master, and he represented Mexico at the World Chocolate Masters Finals. He has also competed at the World Pastry Team Championship 2006, 2008 and the 2010 Mondial des Arts du Sucre in Paris 2008. He was the captain of team Mexico at the Coupe du Monde de la Patisserie 2007. Chef Ortega has participated in and won many other international and national pastry competitions.
Ortega's work has been featured on national and international television (PBS, TLC, Discovery Channel, Food Network, Travel Channel) as well in important international pastry and food magazines. (Dessert Professional, So Good, Passtiseria Internacionale)
Pastry Chef Oscar Ortega has been named among the 10 Top Best Pastry Chefs in America for 2011 by Dessert Professional magazine. He has been selected as a coach for the USA pastry team to compete at Le Mondial Des Arts Sucres 2012. Ortega is also leading the Mexican Pastry Team to compete at the Gelato World Cup in Rimini Italy 2012.
Additionally, Chef Ortega works as a pastry consultant, and teaches advanced chocolate and pastry courses in USA, Mexico and abroad.
Ateleri Ortega
atelierortega.com
150 Scott Lane
Jackson Hole, WY 83001
Jackson Chocolate & Pastry Shop
Our Shop in Jackson Hole is open for retail business and is where we make all of our products. Stop by and sample our coffee, croissants, breads, crepes or gelatos, as well as any of our chocolate and pastry items. There are comfortable seats in the shop or take your goods home to enjoy later. While you are there you can say hello to Oscar and observe the Chocolate Master in his element in our open kitchen.
See more examples of Atelier Ortega's work below. Click for a better view.