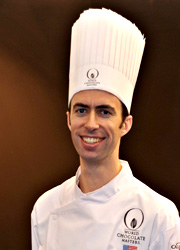 Executive Vice President, CTO Production and Co-founder of Nuubia Chocolat in Pleasanton, CA, Chef Lionel Clement has recently launched his own line of chocolates fused with French tradition in Northern California . Mr. Clement is a rising star in the highly specialized and competitive world of artisan Chocolatier Chefs around the globe.
After receiving his certification in pastry and chocolate, Chef Clement managed Product Development and chocolatier/ pastry chefs at Lenotre, the prestigious and highly esteemed international house of chocolates in France for 5 years. Studying under MOF chefs enabled Chef Clement to perfect his craft and be honored by his peers with the Honors Diploma from the French Cooking Academy in 2004.
He regularly competes and has won competitions at the highest national level in 2004, like the competition held in Montargis. He won 1st price in the Serbotel chocolate competition (France 2005), 3rd prize for artistry at Chocolat by Pascal Caffet in Troyes (France 2006), and qualified for the Chocolate making World Cup in 2007. In addition to his competitions, he has been written about and received the highest of accolades from his peers for his artistry and technical skills in the "Journal du Pâtissier" and "Chocolatier et Confiseur magazine".
In 2006, Chef Clement joined the team at the Wynn Hotel Resort Las Vegas as the Head Chocolate Chef. In charge of the chocolate production and creation, he competed for and won the USA National selection for the World Chocolate Masters in New York City 2008, beating out pastry chefs and fine chocolatiers from some of the country's leading hotels and restaurants. In 2009, he placed 2nd among the 20 best chocolatiers in the world at the prestigious World Chocolate Master Final held in Paris October 2009.
Specializing in chocolate confections and showpieces, Chef Clement is recognized throughout the culinary world for his creativity and his originality with highly advanced technical skills in chocolate making.
Nuubia Chocolat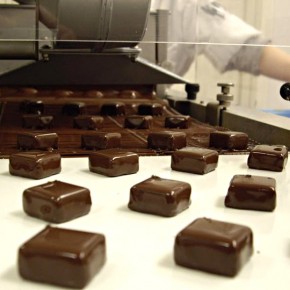 Nuubia Chocolat makes handcrafted chocolates using ethically sourced, sustainably produced ingredients. Our passion is to make the finest of confections, bring smiles to people's faces, and help to protect this little planet of ours by supporting wildlife sanctuaries and animals in crisis.
Find us on Facebook • Visit our Website