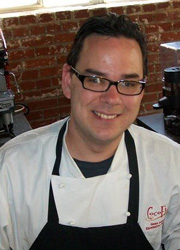 CocoFlow Chocolatier began as a dream for Chef Gene Leiterman and his wife Kim. They longed to open a local gourmet business in their hometown of Oklahoma City, that combined their collective culinary experiences gathered while traveling around the country and the new wave of artisan food culture that was emerging. In 2003 the couple opened CocoFlow Chocolate Fountains, a small catering business featuring chocolate fountain rentals. This small catering business allowed Leiterman to explore the artisan craftsmanship of chocolate and in 2005 CocoFlow expanded and opened a boutique chocolate shoppe.
Using traditional European style and technique as inspiration, Chef Leiterman created CocoFlow's signature line of chocolates, featuring hand-rolled truffles, bon-bon's and pralines. Today, CocoFlow Chocolatier is Oklahoma's Premier Chocolate Artisan offering premium chocolates, decadent desserts, custom chocolate sculptures and chocolate classes in their studio.
All of CocoFlow's artisan chocolates are crafted by hand in small batches using the finest chocolate and ingredients, including single origin chocolates from around the world. Chef Leiterman's pastry & confection point of view is simple and artisan in nature. He believes that you must stress the fundamentals and excellence will follow. Chef Leiterman uses basic equipment and proper hand-tempering in his studio. He rolls, paints and dips all of his chocolates by hand. Each piece of chocolate that leaves CocoFlow is an individual work of art meant to indulge customers senses, peak their interest and satisfy even the most discerning palate.
Leiterman is a completely self-taught artisan chocolatier. Before CocoFlow's doors were opened, Leiterman relied on intensive research and many hours of practice to perfect his chocolate techniques.
At an early age he was passionate about food, and a casual culinary artist but he never indulged the dream of formal training. Instead, Leiterman opted for a degree in Zoology and continued an analytical approach pursuing his master's degree in statistics. After a career in the medical marketing industry and several years traveling around the country, Leiterman translated his experiences to his true passion – pastry & culinary arts.
In 2009, Chef Leiterman's passion for teaching found a place in the culinary world when he accepted a part-time position with Platt College in Moore, Oklahoma teaching pastry arts. His classes were well received, as was his development of new curriculum for the program. Currently, in addition to owning and serving as chocolatier for CocoFlow, Gene serves as Director of the Pastry Arts Program for Platt College which now enrolls over 50 day and night students.
Coco Flow Chocolate Café
100 E. Main
Oklahoma City, OK 73104
Phone: (405) 524-9500
email: info@cocoflow.com
web site: CocoFlow.com
Chef Leiterman features his line of chocolates at CocoFlow Chocolate Café located in the heart
of Oklahoma City's historic, downtown Bricktown. In addition to artisan confections, CocoFlow Chocolate Café offers an amazing line of handcrafted pastries, desserts, and espresso drinks.
Check out some of the sublime work coming out of Coco Flow.
Click for a better view