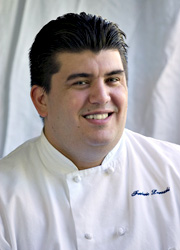 After attending the Souillac "Quercy-Perigord" culinary school, Frederic Loraschi began his career at the age of 16 as a cook for 1989 Bocuse d'Or winner Lea Linster in Luxembourg. He later joined the team of acclaimed 3 Michelin Star Chef Bernard Loiseau in Saulieu, where he learned that passion, patience and hard work are the keys to success.
In 1999, Frederic decided to pursue his career in the United States by joining The Ritz-Carlton Laguna Niguel where he devoted one year as Assistant Pastry Chef before being promoted to Executive Pastry Chef for the reopening of the Original Ritz-Carlton, Boston.
In 2003, Frederic received the offer to take the lead of the pastry operation at the Hotel Hershey in Pennsylvania. His expertise, technical skills and creativity earned him many awards and accolades by the local and national media. Frederic was featured on the Food Network in the show "Unwrapped" as heading one of the Top 5 Best Chocolate Sunday Brunch Dessert Buffets in the United States.
Chocolate Frederic Loraschi

chocolatfl.com
At the end of 2005, he left the Hotel Hershey to create Chocolat Frederic Loraschi and became a successful chocolatier. Only the finest ingredients are used in his creations and Frederic supports local farmers in Pennsylvania by using fresh milk, cream and butter from dairy farms in the area and wildflower honey from Lancaster County in his confections.
For the last five years, Chocolat Frederic Loraschi has been supplying some of the most prestigious venues across the country, as well as celebrities and political figures with his unique chocolate confections.
Because of his simple and efficient approach to pastry, Chef Frederic was featured in many trade magazines such as "Pasticceria Internazionale" (Italy), "Le Journal du Patissier"(France), "Chocolatier Magazine "United States, and "Cuisine & Wine Asia" (Singapore).
In 2007, Frederic was invited to participate as guest pastry chef at the "New World of Food and Wine 2007" at The Ritz–Carlton Millenia in Singapore, where he was the only chef representing the United States.
Because Chef Frederic is considered a leader in the high-end artisan chocolate industry, he was selected as one of the finalists to compete for the US Selection of the World Chocolate Masters 2010 where he ranked second place overall, taking home the "Best Tasting" award. The competition was featured on the TLC Channel as "American Chocolate Championship".
Today, Chef Frederic Loraschi continues to share his passion and expertise creating world-class chocolate confections with his dedicated team in Central Pennsylvania where he fully savours happiness with his wife Diana and his two sons Julian and Luca.
See some of the intricate work coming out of Chocolat Frederic Loraschi.
Click for a better view.